Dimples Excel Professional Racing Swim Goggles + Nose Clip + Earplugs Set (2 Pack) (Blue + Clear)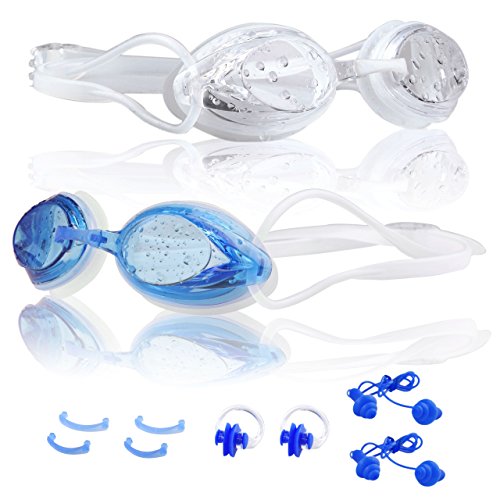 Dimples Excel® Premium Professional Racing Adults Swim Goggles
WHAT'S IN THE PACKAGE
2 x Dimples Excel Swim goggles with L, M and S nose bridges
2 x Dimples Excel Goggle Cases, Clear
2 x Dimples Excel Swim Noseclip
2 x Dimples Excel Swim Earplugs
TO PREVENT FOGGING
No swim goggles can be guaranteed fog-free, not even ours. However, there are things you can do to minimize the risk of fogging
• Wet inside of goggles before use and wash with fresh water after use.
• Do not rub or scratch inside of goggles.
• Anti-fog treatment will wear off over time. To increase longevity of goggles, use anti-fog solution (available from specialist retailers). Saliva, toothpaste and baby shampoo gently applied to lenses can all be used as temporary measures but are not recommended as a long term solution.
TO REPLACE NOSE PIECE
1. Hold the lens and nose piece firmly, pull the nose piece up and inward, towards the center of the goggles, the nose piece is quite snug and may require a bit of effort.
2. After you have selected your preferred size, align the nose piece with the opening and simply press straight in. You will hear a clicking sound when inserted properly.
Alternative nose piece removal:
1. Use a pen or a similar pointed object. Locate the nose piece pins on the underside of the goggles. With the point of the pen, carefully and slowly push the nose piece out.
NOTES
• Check lenses for scratches and cracks carefully before use.
• Very occasionally, silicone straps may cause skin irritation. Consult with your doctor if this occurs.
• Do not look at directly at the sun when using goggles.
• Avoid storing goggles with silicone swim caps as colour transfer may occur.
OUR PROMISE TO YOU
We always go extra mile to please our customers.If you have any questions please get in touch and we will do everything we can to solve them.
Product Features
ANTI FOG LENS: The lens has anti-fog treatment, is scratch resistant and PVC and latex free. The lens is not mirrored
EVERYTHING YOU NEEDED: Package Includes: 2 x Dimples Excel Swim goggles with L, M and S nose bridges; 2 x Noseclips; 2 x Earplugs; 2 x The Dimples Excel Goggle Cases, Clear
WIDE ANGLE DESIGN:Wide angle lens for improved visibility, makes goggles perfect for both indoor and outdoor use. Easy to adjust dual silicone straps for a comfortable and tight fit. Silicone gasket creates a secure and watertight seal
PREMIUM QUALITY WITH LIFETIME WARRANTY: This product is covered by Dimples Excel's Lifetime Warranty
3 SIZE NOSE PIECES:3 sizes (S, M, L) makes goggles a perfect fit for different head sizes and shapes. Great for men, women and youths (NOT for kids)

Reblogged 7 years ago from www.amazon.com