Z ZTARX Waterproof Dry Bag Bluetooth Speaker Roll Top Backpack, Solar and USB Rechargeable LED Camping Lights IPX8 Phone Case. Provides Music and Keeps Gear Dry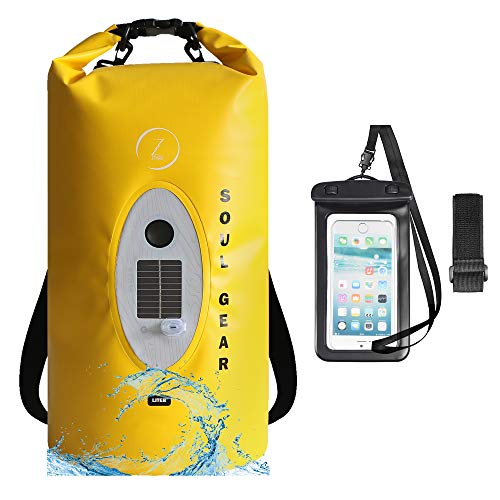 Keep your Personal Belongings Dry while Enjoying your Favorite Watersports & Outdoor Activities with a Dry Bag Backpack with Built-In Wireless Rechargeable Bluetooth Speaker and LED Light by SOUL GEAR
Behind every material, seam and buckle you will find the spirit of outdoor adventure. Solar Sporting Goods is on a mission to bring you products that inspire you to explore the outdoors while listening to the music that moves your soul.
What makes this rolltop waterproof backpack dry bag perfect for outdoor activities? It floats and provides multi-colored LED lighting – Whether you're taking a leisurely river float or an adventurous whitewater rafting trip, use this splash resistant dry bag to store your personal belongings without worrying about things getting soaked. Take it with you on your next hiking, biking, or camping trip, and brighten your campsite at night with both lights and music. Camping gear must have – This water proof dry bag doesn't just store stuff. It is also your personal music entertainment device. The built-in waterproof speaker (IP66) is compatible with every Bluetooth-enabled smartphone device, giving you 3-6 hours of play time combined with variable ambient lighting while enjoying the evening on the beach or the lake. Rated to withstand the toughest conditions – SOUL GEAR dry bags are made of pure grade .5mm thick 500D (Denier Density) water resistant polymer – tough enough to resist abrasions while maintaining flexibility. The SOUL GEAR rolltop waterproof dry bag for boating, kayaking, beach, cycling and more also comes with an IPX8 waterproof phone pouch that has been tested to 30′ for an hour – a reliable extra layer of waterproof protection for your smartphone outside the dry backpack.
Product Sizes & Dimensions (when rolled):
10L capacity: 16″ H x 8.5″ W20L capacity: 18″ H x 10″ W
1 year limited warranty.
Product Features
TARPAULIN DRY BAG for Outdoor Enthusiasts – Manufactured using .5mm commercial grade 500D coated tarpaulin polymer and high frequency welding, our waterproof bags have reinforced seams to create a thorough watertight seal. Lightweight, durable, flexible protection for your smartphone, camera, cloths and gear from water, snow, dust, dirt, and sand.
IPX8 WATERPROOF PHONE CASE – Tested at 30 ft for one hour. 4″ x 6.5″ and 6.2″ diameter fits most smart phones. Velcro strap for arm, backpack and more, plus breakaway lanyard. Finger touch design to take photos right through the case.
CAMPING GEAR MUST HAVE – 3W wireless speaker compatible with all smartphones allows you to enjoy music anywhere life takes you. It's the perfect source of music for any outdoor watersports – whitewater rafting, boating, canoeing, tubing, swimming, camping, fishing, and the beach. Our floating dry bag backpack turns into a multi-color LED light buoy at night. Be bright and be seen, day or night.
SOLAR AND USB POWER – Solar charge 10-12 hours or USB charge 2 hours. Up to 6 hours music playtime. Our dry bags for water sports will power your favorite playlist, rain or shine.
RISK-FREE, WORRY-FREE. Satisfaction Guaranteed – We aim to make sure you are delighted with the SOUL GEAR Dry Bag Bluetooth Speaker, 10L or 20L. 1-year limited warranty.

Reblogged 3 years ago from www.amazon.com