Steve's Rack Shack Premium Indoor/Outdoor Surfboard Storage Rack (Wall Mount; Holds Both Long and Short Boards; for use Indoors and Outdoors; Made in The USA) (6 Space)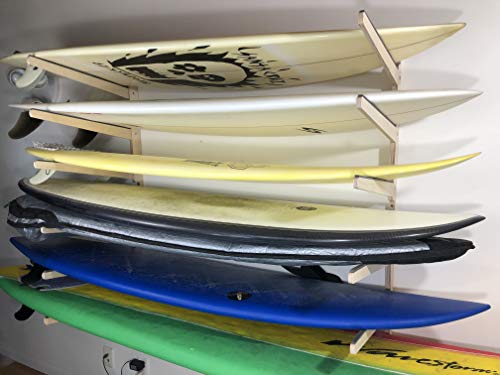 Well designed, low profile, wooden display rack – an essential for any surfer. This rack's stylish, yet minimalist design makes it perfect for indoor use, yet its durable construction allows for outdoor use as well. Buy several racks and display your unique board collection, transforming your boards into wall art. The rack easily and securely mounts to the wall, displaying your boards. Racks are individually crafted in the United States using premium grade birch. *Mounting hardware is included.
Product Features
DESIGNED WITH THE SURFER IN MIND: This rack comes off the wall 23″ with 21″ arms, providing a sleek design to store and display your shortboard, longboard, fish, and most all other surfboard types (up to 30 lbs. per level)
MADE IN THE UNITED STATES BY SURFERS: Steve's Rack Shack uses only responsibly sourced premium birch that provides YOU with the highest quality of goods, built to last.
PROTECT YOUR BOARD: Each rack is lined with foam, gently protecting your board from dings creating a perfect way to display each board. Instead of fixing dings, spend your time surfing and enjoying the waves!
Instructions: 1) Use screws to secure uprights to wall. 2) Interlock arms to uprights. NOTE: Arms slant upward. 3) Use binding bolts to secure arms to uprights. 4) Put binding bolts in holes above and below the arms. 5) Attach foam to top of each arm, press firmly.
SATISFACTION GUARANTEED: This sleek rack is a high-quality product made in the United States for surfers by surfers.

Reblogged 3 years ago from www.amazon.com