Olukai 'Ohana Sandal – Women's White/Dark Java 7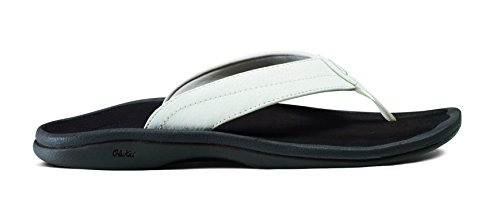 With new and classic colors the 'Ohana is a go-to choice for everyday style.Wet Sand PrincipleInspired by the feeling of bare feet in wet sand, OluKai builds their footwear with anatomically contoured footbeds to deliver the perfect balance of instant comfort and lasting support.You'll find these contoured footbeds in every product they make. From water-friendly sandals to beach town shoes to upcountry boots, OluKai's footwear is designed to deliver unparalleled comfort from the ground up.The Arch
OluKai's anatomical arch support improves comfort and supports the natural contours of the foot. Proper medial and lateral arch support reduces aches and pains, and promotes healthier functioning for superior natural shock absorption and a coiled spring effect in the foot.The Toe
The generous toe box allows your toes to spread naturally, like a bare foot in wet sand. The result is better balance, less stress, and increased comfort.The Heel
Olukai's heel cup cradles the foot, minimizes side-to-side movement, and provides stability and natural shock absorption. The heel cup centers and aligns the foot to minimize pronation and supination, reduce pressure on the arch, and enhance the body's natural cushioning and bone protection.
Product Features
Upper: Water-resistant synthetic leather strap with soft,, quick-drying jersey knit lining and neoprene backer.
Footbed: Anatomical compression-molded EVA midsole with a brushed ICEVA drop-in footbed for personalized fit.
Outsole: Non-marking gum rubber outsole with a coral reef lug design for added grip.
Features: Soft nylon toe post webbing, laser-etched logo, and embroidered detail, style supports Olukai's "Ohana Giveback Program."
Contoured footbeds to deliver the perfect balance of instant comfort and lasting support.

Reblogged 7 years ago from www.amazon.com