Micro Mini Kick Scooter – Aqua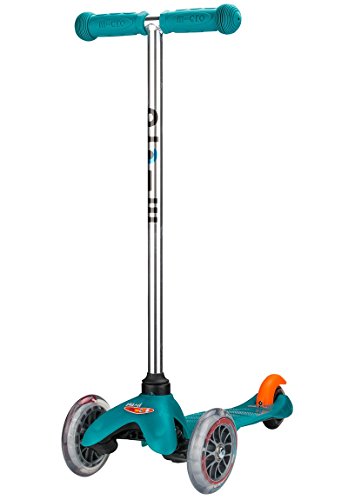 The Micro Mini Kickboard is the highest rated scooter for children aged 2-5. Your child will love "surfing the sidewalk" on their Micro Mini, and you will love the years of fun and exercise it provides. The Mini is one of the best value present you will buy your child. The smooth gliding Micro Mini's 3 wheels, low-to-the-ground deck and safe steering all contribute to stability that makes the Mini perfect for pre-schoolers and kindergartners. What makes the Mini unique and fun is the lean-to-steer design; children steer by using their body weight to lean right and left, intuitively learning to lean into a turn, while developing balance and coordination used in many sports. The Micro Mini has the smoothest, quietest ride available thanks to high quality wheels and a flexible fiberglass reinforced deck, which together absorb bumps in the sidewalk. Safety certified by the CPSC, the Micro Mini is recommended for children up to 44lbs.
Product Features
Swiss-designed, the Micro Mini is also known as the "Mini Kick" – it is the quality choice in 3-wheel scooters for young children ages 2-5.
The Mini's award-winning design, with its unique lean-to-steer mechanism has kids 'surfing the sidewalks', as they curve from left to right!
The Mini's wheels are made of the highest quality Polyurethane, creating the smoothest possible glide, even on urban sidewalks.
Even the youngest children can use the Mini — the deck is low-to-the-ground, making it easy for little ones to easily and confidently hop on and off. The deck is large enough for both feet, so kids can switch from pushing to just enjoying the ride.
Swiss-designed, its high quality construction means the Mini is durable and sturdy enough for everyday use. All parts are replaceable.

Reblogged 7 years ago from www.amazon.com