Hyperflex Wetsuits Men's Voodoo 1.5mm Pullover Jacket, Black/Green, 3X-Larg – Surfing, Windsurfing & Wakeboarding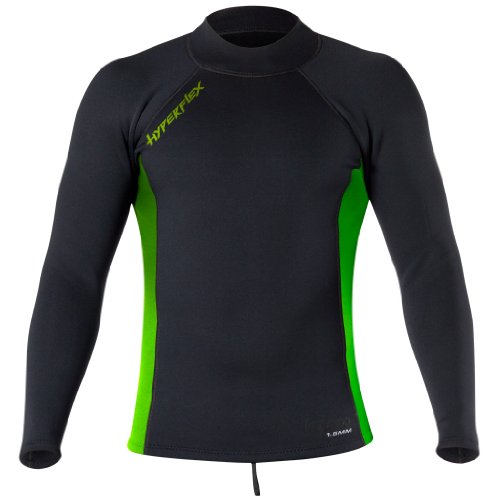 Hyper flex's new Voodoo Tops are made from our new Atomic Foam Super Stretch Neoprene and come in several color and cut options. Choices range between Long Sleeve, Short Sleeve, or Sleeveless, Men or Women's. Low-profile flat lock seams throughout will feel smooth and prevent rash and chaffing. Critical seam placement for optimal flex and ergonomics. Attach the board shorts to the waist loop and appreciate the instant SPF 50+ protection from the sun.
Product Features
PERFECT FIT: Super stretch neoprene infused with a higher count of air cells allows for more insulation at the same thickness and weight.
THERMAL: Constructed with a thin fibrous fabric which internally lines the suit increasing warmth, comfort and quick dry properties.
MULTI-SPORT: Designed for all water sports including surfing, paddleboarding, windsurfing, water skiing, wakeboarding, etc.
EASY ENTRY AND EXIT: Cocoon Entry Point & Closure System gives surfers an easy entry and exit while also sealing water out with an anti-flush head gusset panel.
WATERPROOF TECHNOLOGY: New liquid sealant technology forms a molecular bond preventing water exchange, thus increasing seam strength and durability.

Reblogged 7 years ago from www.amazon.com