GoRad Gear Selfie Stick for iPhone 6 & 5, Android, and GoPro Hero Cameras – Waterproof with NO BLUETOOTH – Extends 16-36 Inches – Aluminum Tripod Mount and Thumb Screw – Nylon Carry Bag (black)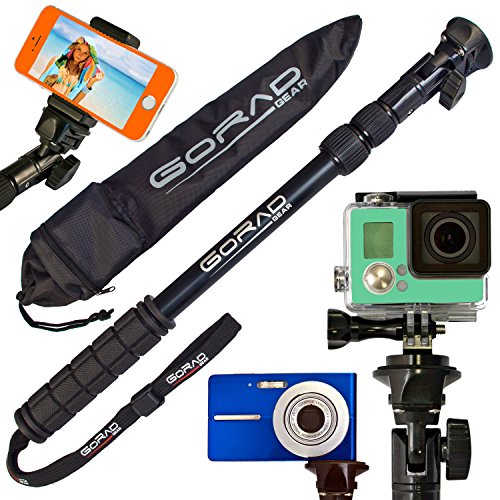 HOW TO GET THOSE BREATHTAKING VIDEOS WITH YOUR SMARTPHONE, GOPRO HERO, AND DIGITAL CAMERA
If you have a Smartphone or GoPro you need THE SAN JUAN telescoping extension pole!
– Allows you to capture unique angles and points-of-view.
– Great for passing your smartphone or Hero camera from one buddy to another.
– Allows you to get closer to the action while stabilizing your phone or GoPro.
– Attaches to all GoPro Hero cameras and smartphones up to 3.25″ wide, and any camera equipped with a 1/4″ screw mount.
Superior Materials and Design
Your phone and camera were made to meet the highest of standards, so your selfie stick should be too. Our stick
is fabricated with high quality materials to create a premium product.
Some of the features that make our stick an excellent product!
– Made from durable lightweight rust-resistant anodized aluminum tubes and stainless steel hardware.
– Made of totally waterproof materials making it safe for underwater use.
– Comes with a BONUS NYLON CARRY BAG with zippered storage pouch.
– Equipped with a 1/4″ universal screw mount, phone mount, aluminum GoPro compatible tripod mount and aluminum thumb screw.
– Twist locking system to easily adjust pole length from 16″-36″.
GUARANTEED against manufacturing defects for as long as you own the SAN JUAN.
Click "Add to Cart" now and start capturing those videos and images you've only dreamed about!
Product Features
VERSATILE DESIGN – Our selfie stick (the San Juan) has a 1/4″ universal screw mount for attaching phone mounts, GoPro compatible tripod mounts, and any camera equipped with a 1/4″ screw mount. And, the San Juan comes with everything you need for attachment: a phone mount (for iPhone 4, 5, 6 and 6s and Android smartphones up to 3.25″ wide); a high quality CNC aluminum tripod mount (for Go Pro Hero Session, 4, 3+, 3, 2, & 1 cameras); and an aluminum thumb screw.
TWIST LOCKING SYSTEM – Our aluminum tube telescoping pole has a twist locking system that allows you to easily adjust the pole from 16″ to 36″, which means it can be used as a camera grip for static or close-up shots when fully collapsed, or as a pole mount for capturing POV footage, selfies, and follow-cam when partially or fully extended.
MADE FROM WATERPROOF MATERIALS – Our stick has NO bluetooth components, so you can use it with a Go Pro or waterproof digital camera in any environment or weather condition making it the perfect choice for outdoor activities like hiking, snowboarding, skiing, surfing and kayaking, as well as underwater adventures like scuba diving and snorkeling.
BONUS NYLON CARRY BAG ($6.95 value) – Our professional grade monopod comes with a nylon tote bag with zippered storage pouch, adjustable shoulder strap, and cinch-cord opening for you to store and carry your selfie stick and mounts wherever life takes you, giving you peace of mind and hands-free travel.
100% LIFETIME GUARANTEE – Our adjustable selfie stick comes with a 100% lifetime guarantee against any manufacturing defect for as long as you own it, allowing you to buy with confidence and enjoy the wonderful experience of using your smartphone, GoPro Hero4 and Hero3+ or earlier model Hero digital camera, or compact digital camera.

Reblogged 7 years ago from www.amazon.com