Abahub Premium 8'0 x 24 Surfboard Travel Bag, Foam Padded Surf Board Cover, Longboard Carrying Bags for Surfing, Outdoor, Airplane, Car, Truck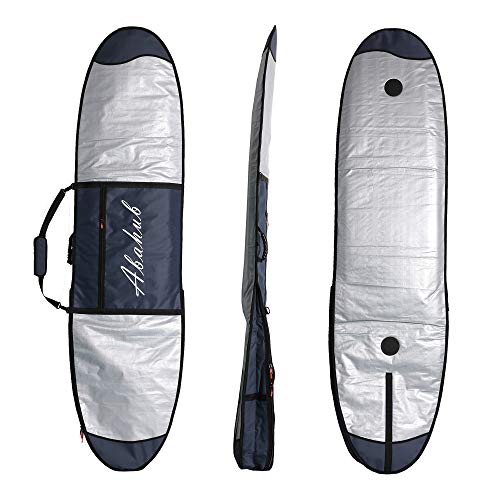 Detailed Size Chart – Surfboard Travel Bag
6'0 x 22" Pointed Nose, for board size up to 6'1 x 23"
6'6 x 22" Pointed Nose, for board size up to 6'7 x 23"
7'0 x 24" Round Nose, for board size up to 7'1 x 25"
7'6 x 24" Round Nose, for board size up to 7'7 x 25"
8'0 x 24" Round Nose, for board size up to 8'1 x 25"
8'6 x 24" Round Nose, for board size up to 8'7 x 25"
9'0 x 24" Round Nose, for board size up to 9'1 x 25"
9'6 x 24" Round Nose, for board size up to 9'7 x 25"
10'0 x 24" Round Nose, for board size up to 10'1 x 25"
Detailed Size Chart – SUP Travel Bag
8'0 x 30" Round Nose, for board size up to 8'2 x 30"x 6"
8'6 x 30" Round Nose, for board size up to 8'8 x 30"x 6"
9'0 x 30" Round Nose, for board size up to 9'2 x 30"x 6"
9'6 x 33" Round Nose, for board size up to 9'8 x 33"x 6"
10'0 x 33" Round Nose, for board size up to 10'2 x 33"x 6"
10'6 x 33" Round Nose, for board size up to 10'8 x 33"x 6"
11'0 x 33" Round Nose, for board size up to 11'2 x 33"x 6"
11'6 x 33" Round Nose, for board size up to 11'8 x 33"x 6"
12'0 x 33" Round Nose, for board size up to 12'2 x 33"x 6"
Product Features
Premium Materials: premium quality 190g/m2 water-resistant PE shell with 600D reinforcement, 1/5″ (5mm), 130g/m2 PE lining and big tooth YKK #10 nickel plated zippers are used to make for this top quality surfboard travel bag.
Wide Sizes Coverage: this board bag is specially designed to cover a wide range of board sizes up to 8'1 x 25". Please check the detailed specs on the 2nd picture of the listing.
Extra Protection: 2 x 4″ air vents for heat protection; 600D nylon for nose and tail protection.
Thoughtful Design: 28″ x 18″ external pocket with zipper for gear storage; inside fin pocket with velcro; flexible tail section to accommodate for the fins so you don't need to take off the fins after use.
Comfortable to Carry: 1.5″ wide padded adjustable shoulder strap, durable ergonomic plastic handle, with ugraded strap buckle and double stitching all around.

Reblogged 3 years ago from www.amazon.com